Hydroxypropyl Methyl Cellulose
---
1.ChemicalName:HydroxypropylMethylCellulose(HPMC)2.TechnicalIndex:Notes:(1)Itisavailabletoadjustindexasactualconditionsforspecialcustomers.(2)Thereisnoobviousimpuritiesandfiberinsolution. 3.MainApplic
---
1. Chemical Name: Hydroxypropyl Methyl Cellulose (HPMC)
2.Technical Index: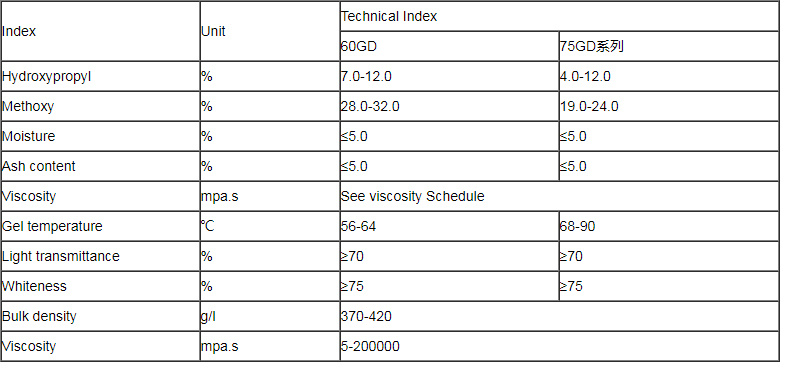 Notes:
(1) It is available to adjust index as actual conditions for special customers.
(2) There is no obvious impurities and fiber in solution.
3. Main Application
It can be used as dispersing agent or stabilizer for suspension polymerization in PVC, which can improve key factors of suspension polymers like average particle size, particle size distribution, particle form and inner structure. It is a main auxiliary for preparation of PVC by suspension polymerization.
Besides, HPMC can be used as thickener, stabilizer, emulsifier, shaping agent, water-retaining agent, film forming agent, etc. in production of petrochemical, coating, building materials, paint remover, agricultural chemicals, oil ink, textile printing and dyeing, ceramics, paper and cosmetics.
4. Packaging and Storage
Product is packed in fiber can lined with polyethylene film or PVC coated polypropylene woven bags, in net weight of 25kg per can (bag);
It should be kept away from exposure to the sun, rain and moisture in storage and transportation.
Sample application/message consultation